A Project of the KPFA Community Radio Collectives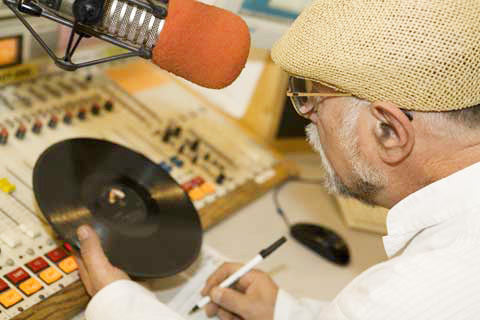 Con Sabor guest host Emiliano Echeverria celebrates his 40th Anniversary as a KPFA broadcaster with Cuba Canta, bringing his collection of vintage, classic and rare Cuban music recordings, from Danzon to Son, Mambo to Doo-wop, Timba, el Rap, and Regetun Cubano.
Featured artists include: Orquesta Aragon, Machito and his Afro-Cuban Orchestra, Miguelito Valdez, Orquesta Riverside, Estrellas Juvenides, Charanga Tipica Cubana, Conjunto Casino, Rene Alvarez, Los Papines, Los Zafiros, Angel Bonet, Charanga Habanera, X/Y/S, and more.
Special guest includes SF-based attorney and cultural presenter Bill Martinez discussing the current state of US-Cuba relations, travel and musical/cultural exchanges.
Produced by Emiliano Echeverria
Engineer Clay 'C-Tone' Leander at the controls.
Community Calendar produced by Ron Flores
Original Broadcast: Saturday – April 26, 2008
KPFA 94.1 FM – in Northern California
KPFB 89.3 FM – Berkeley
KFCF 88.1 FM – Fresno
Audio Archive
Listen:
Radio Cuba Canta– Saturday, April 26, 2008

Mp3 Playback (iTunes, WinAmp, Windows Media):
Radio Cuba Canta– Saturday, April 26, 2008
KPFA FM live on the web at:
www.kpfa.org
more program info:
http://www.kpfa.org/archives/index.php?show=55

This program honors Pachamama: Mother Earth
this beautiful planet we must defend against polluters & defilers
who are, in part, our very dear selves
as we drive cars, board plans, and pay taxes for wars
Today is the day to think about how
we can lighten our ecological footsteps
in our home and in our work
and the bigger question:
how to turn our society around globally
Stay tuned as we fill your ears
with musica y poesia
and latino current affairs
Featuring
– Rafael Jesus Gonzalez' beautiful new poem for Earthday, read by the maestro himself
– A report on Immigration by Oscar Hernandez – a recent graduate of the KPFA First Voice Apprenticeship program
– A commentary by Carlos Munoz Jr. on the working class hero, Cesar Chavez
– Mr. Chuch takes us for a melodious walk thorugh the Streets of Aztlan
– and on the action-packed preparations for the celebration of a May Day for social change and justice with special guest from Mujeres Unidas y Activas, Claudia Reyes
Hosted by Nina Serrano.
Live on the air – Tuesday 7 pm :
KPFA 94.1 FM – San Francisco Bay/Northern California
KPFB 89.3 FM – Berkeley
KFCF 88.1 FM – Fresno
PLAY NOW:
La Raza Chronicles – April 22, 2008 – stream @ KPFA FM
Mp3 / iTunes podcast:
La Raza Chronicles – Tuesday, April 22, 2008
More info:
http://www.kpfa.org/archive/id/41474