BOCAS RADIOACTIVAS Part 2:November 5 & 6 – SF Bay
Posted on October 30, 2010
La Peña Cultural Center, Mission Cultural Center and Miami Light Project Present:
BOCAS RADIOACTIVAS (Part 2)
Two Evenings of Bilingual Spoken Word about Race, Freedom
and Hip-Hop/La poesia y politica del Hip-Hop
Featuring:
  LOS RAKAS (Panama/Oakland)
  BOCAFLOJA (Mexico D.F.)
  DOBLE FILO (Cuba)
  PAUL S. FLORES (San Francisco)
With Special Guest: Youth Speaks poet Brandon Santiago
and DJ LEYDIS (Cuba)
SLIDE IMAGES OF CONTEMPORAY CHICANO & LATINO CULTURE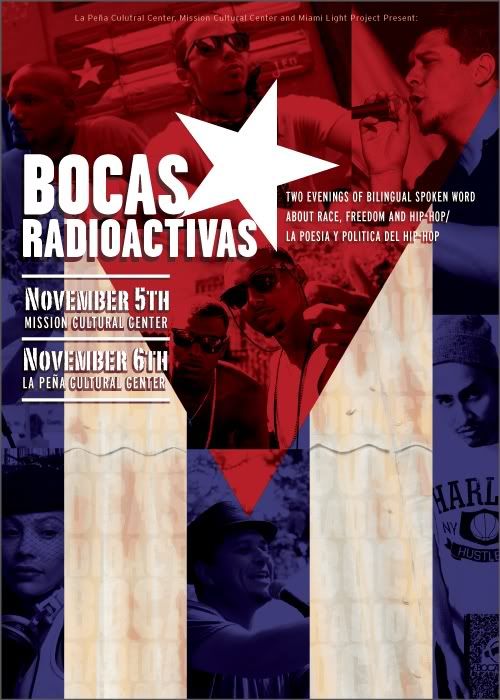 November 5-6, 2010
FRI. NOVEMBER 5, 2010
Mission Cultural Center
2868 Mission St. @ 25th
San Francisco, CA 94119
415-643-2785
www.missionculturalcenter.org
SAT. NOVEMBER 6, 2010
La Peña Cultural Center
3105 Shattuck Ave
Berkeley, CA 94705
510-849-2568
www.lapena.org
All shows at 7:30PM
Tix $12
ALL AGES! / TODAS EDADES!
A Spanish-English spoken word event to bring awareness to Black Latino heritage, immigrant rights and Spanglish culture through the global lens of the Hip-Hop generation. Also presenting DOBLE FILO from La Habana, Cuba for the first time in San Francisco demonstrating the challenges and success of Hip-Hop in communist Cuba.
Un evento de palabras bilingues para poner luz sobre la herencia Afro-Latina, el movimiento para los derechos de los inmigrantes, y la cultura Spanglish por una perspectiva del Hip-Hop mundial. Tambíén presentando por primera vez en San Francisco el grupo cubano Doble Filo mostrando el desarollo del Hip-Hop dentro de un pais comunista.
Se habla Español…con ganas!
Interview with Paul Flores and DJ Leydis
  con C-Tone de Radio Cuba Canta – 30 Oct 2010
Listen: Radio Cuba Canta – Saturday, October 30, 2010

Mp3 Playback (iTunes, WinAmp, Windows Media):
Radio Cuba Canta– Saturday, October 30, 2010
ARTIST BIOS
Paul Flores is a poet, playwright, novelist and nationally prominent spoken word artist from San Francisco who specializes in bilingual and hip-hop performance. His novel Along the Border Lies won the 2003 PEN Oakland/Josephine Miles Literary Award.. Flores most recent plays Fear of a Brown Planet (2005) and REPRESENTA! (2007) were both National Performance Network Creation Fund Commissions. Flores was featured on Russell Simmons Present: Def Poetry on HBO and was recently awarded a Center for Cultural Innovation grant to tour Latin America. He is the co-founder of Youth Speaks and currently teaches Hip-Hop Theater and Spoken Word at the University of San Francisco.
More info: www.myspace.com/paulfloresrepresenta
Video Links: www.youtube.com/
vimeo.com/
Bocafloja is a MC, poet, spoken word artist, and outspoken social communicator from Mexico City, Mexico. Bocafloja began his musical career in the mid-90's with the groups Lifestyle (1996-1998) and Microphonk (1999). As a solo artist since 2000, he released his demo EP album Lengua Insurrecta in 2002. Bocafloja burst on the Mexican hip hop scene with the release of the his debut album, Pienso Luego Existo, in 2003. Followed by the successes of Jazzyturno in 2004, A Titulo Personal in 2005, El Manual de la Otredad in 2007, and Existo: Matriz Preludio al Pienso in 2009, Bocafloja has transformed into one of the most revered icons in the hip hop scene in Mexico.
Lyrically Bocafloja critically addresses topics such as institutionalized racism, social and political oppression, mental slavery, colonialism, and other human conditions. Bocafloja is recognized in Mexico as the pioneer of the utilization of hip hop culture as an alternative tool to create awareness, developing a different form for political participation that reaches and is more relevant to marginalized youth. Bocafloja currently lives and works between New York, California and Mexico City.
More info: www.myspace.com/bocafloja
Video Links: www.youtube.com/
www.youtube.com/
Los Rakas includes Ricardo Guillam Bethancourt and Abdull Dominguez. Better known as Rico and Dun Dun, they were just toddlers back in 1989. But their memories of that time are vivid. In their song "Invasion of Panama '89," they use archival news clips and somber lyrics to recount the violence that engulfed their Panama City neighborhoods. Like hundreds of Panamanians, Rico's grandfather died in the violence. Rico says he wrote the song so more people, especially Americans, would be aware of the pattern of U-S military intervention in other countries. RICO: "The thing that was going on with Iraq, that kind of reminded me of it. So I'm like, here we go again you know." But don't get the wrong idea. Rico and his cousin Dun Dun, now in their early 20s, have lived half their lives in the U.S. And they say they're grateful for all it has given them. Their debt to this country is apparent in their music. English and Spanish take turns over beats that merge Bay Area hip hop with the Caribbean rhythms of Panama. They have just released their second CD Panabay Twist 2: La Tanda del Bus.
More info: www.losrakas.com
Video Links: www.youtube.com/
www.youtube.com/
Doble Filo is a Cuban hip-hop band formed in La Habana in 1995 and composed of Yrak Saenz Orta, and Edgaro Gonzales. Doble Filo is one of the most well known exponents of Cuban Hip-Hop and along with Orishas, have introduced the world to the innovative style of hip-hop mixed with Cuban traditional music Through its music and lyrics, Doble Filo particularly focuses on personal and racial themes aiming to improve social conditions by encouraging listeners to find themselves. This duo also aims to communicate important and controversial social issues. The members veer away from lyrics that advocate violence or belittle women. Their main philosophy is avoiding negativity.
More info: www.myspace.com/doblefilo
Video Links:
www.youtube.com/
www.youtube.com/
DJ Leydis is a pioneer of the Cuban hip hop scene. As one of the first female hip hop DJs, she injected a feminist worldview into the male dominated culture. She co-founded the all-female collective Omega Kilay of Cuban emcees, deejays, dancers, activists and more. Four years ago she came to the Bay Area where she continues to perform as a DJ, poet and community activist.
More info: www.myspace.com/djleydis

Media Contact:
Juliana Mojica, Mojica Arts | 415.671.3907 | juliana@mojicaarts.com
Categories: Uncategorized
---