29th Encuentro del Canto Popular San Francisco – December 3-4, 2010
Posted on November 27, 2010
Emiliano Echeverria

to be honored with Bay Area Latin Broadcasters
at

29th Encuentro del Canto Popular event
 Fri – Sat December 3-4, 2010 
Brava Theater – 2781 24th Street – San Francisco, CA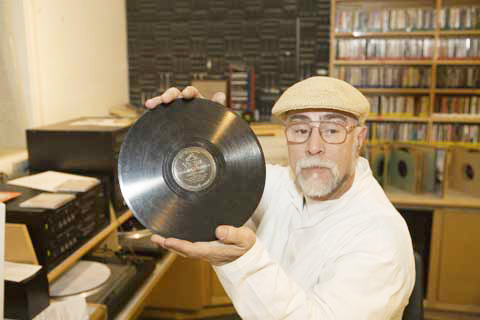 Join us: at the 29th Encuentro del Canto Popular featuring a special tribute to veteran
Bay Area DJs Avotcja, Luis Medina, Chata Guitierrez, and Emiliano Echeverria
at the Brava Theater in the San Francisco Mission District,
December 3 & 4, 2010
Complete information on the concert event and tickets:

Accion Latina presents
The 29th Encuentro del Canto Popular concert
Fundraising concert for El Tecolote Newspaper
A celebration of 40 years of independent, bilingual community journalism
Fri. – Sat. December 3-4, 2010
Fri. Dec. 3:
La Familia Peña-Govea |  Futuro Picante
| Emcee Betty Pazmiño
|
Special tribute to veteran local DJ's Avotcja & Luis Medina
Sat. Dec. 4:
Loco Bloco | Afro-Cuban Jazz Ensemble of SFSU  | Emcee's Leticia Hernandez & Tomás Riley | Special tribute to veteran local DJ's
Emiliano Echeverria & Chata Gutierrez
Brava Theater | 2781 24th Street | San Francisco, CA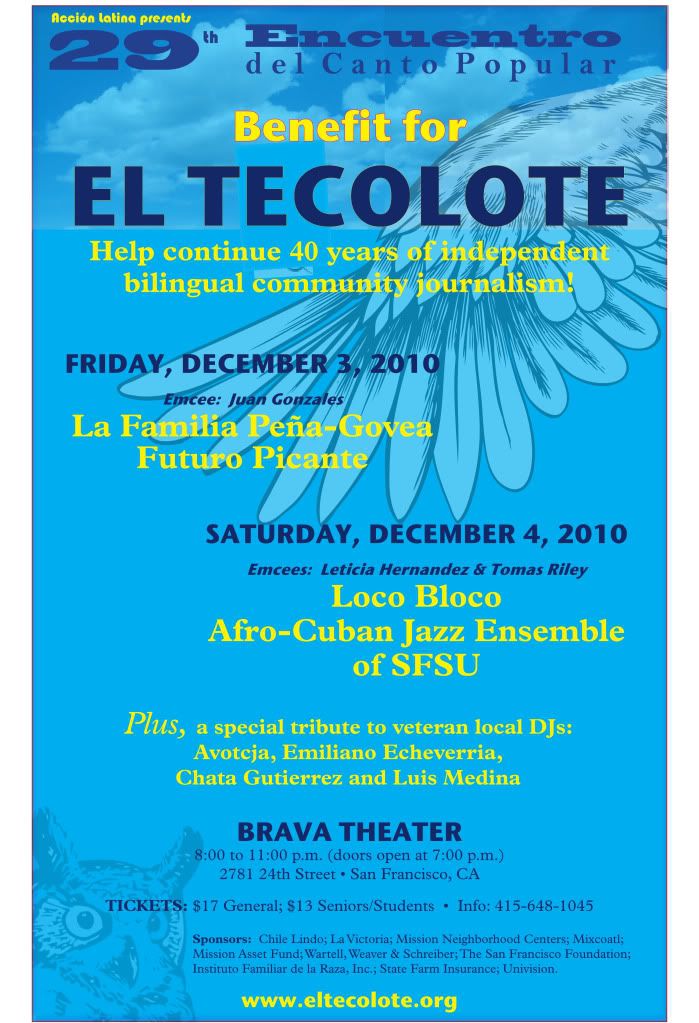 On

Friday, December 3

and

Saturday, December 4

, local San Francisco musicians will share their musical talents in celebration of El Tecolote Newspaper with a Latin music concert featuring music that spans the Americas, from the Caribbean to the local corner dive, plus, a special tribute to veteran local DJ's Avotcja, Emiliano Echeverria, Chata Gutierrez and Luis Medina for their contributions in creating an environment for Latin Music to thrive in the Bay Area.
El Tecolote Newspaper is a community-based bilingual newspaper that was established in 1970 to provide a fuller portrait of Latino life and cultural and to provide free journalism training for local residents. Over the past 40 years, El Tecolote has become a beloved community institution and a proven pipeline to journalism careers.

Friday, December 3rd
Join us on Friday for an incredible night of music from the Mission performed by La Familia Peña-Govea and the youth-driven salsa rhythms of Futuro Picante.
 

When local recording artist, bandleader, composer and musician

Miguel Govea

began performing music with three women in his life he created the Mission's own musical household with a hybrid lyrical twist as La Familia Peña-Govea. A well-known musician, Miguel Govea will be accompanied by his wife, Susan, and two daughters, Rene and Cecilia, as

La Familia Peña-Govea. 

This talented musical family will get the audience swaying with their mixture of traditional Tex-Mex and Colombian music, driving us down a road filled with rancheras, valses, polkas, boleros, and vallenatos. La Familia Peña-Govea seamlessly coordinates the range of traditional instruments and progressions into a cohesive groove. The harmonious duets with Miguel and his wife ring with both a sublime simplicity that encourages the audience to sing along. La Familia Peña-Govea is continuing the rich legacy of Latino music in the Bay Area, and they are doing it together in style.
Closing Friday night is Futuro Picante, the Mission Cultural Center for Latino Arts' youth Latin jazz band.  With ages ranging from nine to 18-years-old, Futuro Picante's sound is anything but elementary. Their repertoire of vivacious Latin jazz includes both salsa's golden age classics and original compositions from local artists.  The group was formed in 2003 by Jose Leon, the Center's youth director, as part of a summer Latin Jazz Band  The group was formed in 2003 by Jose Leon, the Center's youth director, as part of a summer Latin Jazz Band program. His aim was to provide
low-cost music training for neighborhood youth and to pass on Latin music traditions to the next generation. With the help of co-director Miguel Govea, Leon assembled his first group of promising youth musicians. The group has been wowing audiences ever since.

The complex texture of their music, layering fluttering flute solos with Cuban percussion, energetic trumpet melodies, jazzy keyboard stylings, and an array of powerful vocalists, earned them the title of San Francisco's "2010 Best Kid Band" by SF Weekly. With their fresh sound and a maturity of musicianship beyond their years, Futuro Picante has indeed proven to be the zesty future of Latin music while honoring the legacies of Tito Puente, Beny Moré, and more.
Saturday, December 4th
On Saturday, you will experience the thunderous Brazilian heartbeat of

Loco Bloco,

a non-profit group that has helped thousands of local youth find their life bearings through Afro-Brazilian drumming and dancing. Saturday ends with the

Afro-Cuban Jazz Ensemble of SFSU

led by local music favorite

John Calloway

.
Loco Bloco

uses art as a tool to empower local youth and direct them towards healthy lifestyles and civic engagement. Since Loco Bloco's inception in 1994 more than 6,000 have passed through their programs becoming professional and passionate performers, with many youth returning to mentor younger members. Loco Bloco's drumming and dancing troupe pack a gigantic wallop that will shake your soul and unhook your hips.  Their heavily percussion-based music is a potent fusion of African, Brazilian, Hip Hop, Latin, and Funk matched with high-energy dance routines ranging from samba to African and hip hop.
Saturday night will close with the

Afro-Cuban Jazz Ensemble of San Francisco State University

. Formed in 1999, the ensemble is dedicated to preserving and performing Cuban popular music and other Latin American music genres. The 25-member ensemble is composed of musicians from the university and the Bay Area community at large. Their mission is to expose audiences to the richness of Cuban music that has
influenced American music since the 19th century. The ensemble also performs music from South and Central America, Mexico, the Caribbean and the U.S.

John Calloway, director of the ensemble, is a Grammy nominated multi-instrumentalist, composer, educator and social activist. He has been a mainstay in the Bay Area music scene since the mid-1970s, having performed with J Omar Sosa, Israel "Cachao" Lopez, Dizzy Gillespie, Jesus Diaz, John Santos and Pete Escovedo. John is on faculty in both the School of Music and Dance and the Ethnic Studies Department of SFSU and gives lectures and workshops on music, the arts and social change throughout the region.  Currently he serves on the SF Arts Commission and on several arts advisory boards in the Bay Area.

Advance tickets available at Accion Latina office – 2958 24th Street, San Francisco, Monday-Friday 11:00 – 4:00 pm (415) 648-1045. Tickets will also be on sale on the nights of the performances.
Categories: Uncategorized
---